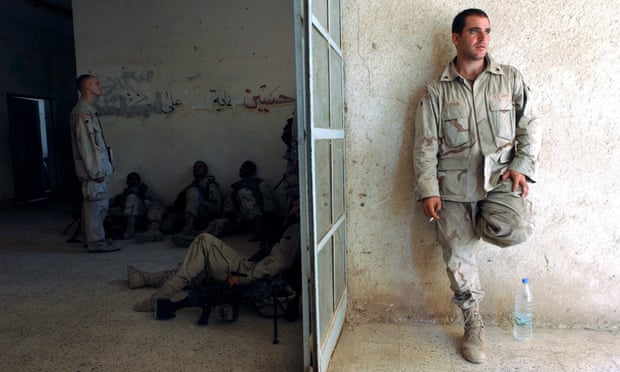 In 2007, shortly after vice-president Joe Biden learned that his eldest son would be deployed to Iraq, the then-presidential hopeful turned to a modest crowd at the Iowa state fair and admitted that he didn't want Beau to go. "But I tell you what," he said, his family lined up behind him. "I don't want my grandson or my granddaughters going back in 15 years and so how we leave makes a big difference."

Beau arrived in Iraq the following year, and spent the next several months serving as a Jag officer at Camp Victory, just outside of the Baghdad airport, and Joint Base Balad, nearly 40 miles north of Baghdad. Though he returned home safely in September 2009, he woke up one day a few months later with an inexplicable headache, numbness in his limbs and paralysis on one side of his body. Beau had suffered a mild stroke. His health deteriorated, and he was diagnosed with brain cancer. Less than two years later, he died at the age of 46.
Though the underlying cause of Beau's cancer cannot be confirmed, evidence gathered in a new book out Tuesday suggests a possible link between his illness and service. Based on clusters of similar cases, scientific studies and expert opinions, author Joseph Hickman proposes in The Burn Pits: The Poisoning of America's Soldiers that US service members in Iraq and Afghanistan confronted more than one unexpected enemy that followed them home. Many soldiers complain of respiratory issues relating to their burn pit exposure. But others likely developed more life-threatening conditions such as cancers, Hickman contends, because of what the burn pits were built on top of: the remnants of Saddam Hussein's chemical weapons program.

From the moment the US launched its campaigns in Afghanistan and Iraq, the Pentagon ordered the use of open-air burn pits to dispose of the wars' massive volume of waste. The military relied heavily upon these sprawling ditches, which burned around the clock to consume the tens or even hundreds of tons of junk generated daily. By May 2003, according to Hickman, there were more than 250 burn pits at US bases peppered across the two nations.