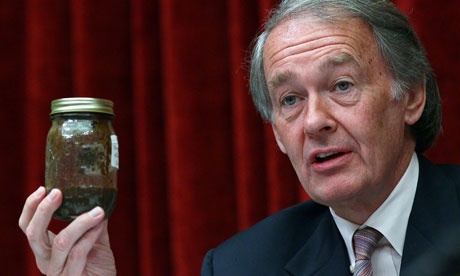 The kick-off of the 112th Congress on Wednesday also marked the end of an era in the House – the demise of a committee devoted solely to climate change and energy issues. The Select Committee for Energy Independence and Global Warming, created by Nancy Pelosi in 2006, has been shuttered under the new Republican leadership. In the final days of the committee, staffers released a report on what the committee accomplished in its brief tenure – an epitaph of sorts.
Tackling issues from the politicisation of climate science to the explosion of the Deepwater Horizon, the committee held 80 hearings and briefings. It played a role in shaping policy for the 2007 energy bill, the 2009 stimulus package (which included $90bn [$58bn] in energy, efficiency, and other green elements), and, of course, the 2009 climate bill (the one that never became law, of course, because the Senate didn't act on it).
TVNL Comment: Republicans also kill the world. Their answer to everything is war. Money is the only thing that matterst to them. Money before the environment, science, art, health, peace, fairness, justice...you name it. That is the American way according to them.