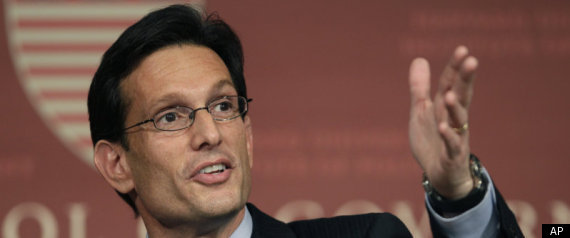 House Republicans will introduce legislation, likely by the end of this week, that would make it so that if Congress is unable to come to an agreement over an operating budget, the GOP's version would simply become law of the land.
The bill, titled "The Government Shutdown Prevention Act," is designed for the purposed described in its title. In terms of partisan equity, it's lacking.
Announced by House Majority Leader Eric Cantor (R-Va.) on Wednesday, the legislation would make it so that "if the Senate fails to pass a measure before April 6, 2011 providing for the appropriations of the departments and agencies of the Government for the remainder of fiscal year 2011, H.R. 1 (as passed by the House on February 19, 2011) becomes law."
The bill also stipulates that Members of Congress and the President will not get salary payments in the event of a shutdown or the U.S. debt limit being reached.
TVNL Comment:  This is the most stupipd of all the insane ideas coming out of the GOP.  Damn it, Eric....read the US Constitution and learn that a bill must pass BOTH Houses of Congress in identical form - and be signed by the President - in order to become  law.  Geez.