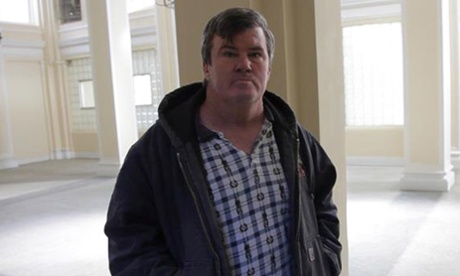 Many poor Americans face jail when they can't pay steep fines for nonviolent crimes, like $1,000 for stealing a $2 beer

Thomas Barrett of Georgia sold his own blood plasma twice a week to raise money for the probation fees he owed a for-profit firm.

In January 2013, Clifford Hayes, a homeless man suffering from lupus and looking for a night off the streets, walked into the sheriff's office in Augusta, Georgia. It was a standard visit: he needed police clearance, a requirement of many homeless shelters, to stay overnight at the Salvation Army.
Hayes expected to go straight to the shelter. Instead, he was handcuffed and later thrown in jail. Hayes hadn't committed a crime – or at least, he hadn't in many years since 2007, when he committed several driving-related misdemeanor offenses, for which he pled guilty and was put on probation. That probation left him $2,000 in debt for court fines – and fees he was supposed to pay to a private company the state hired to monitor him until his probation ended.
Hayes needed to pay $854 to the court to avoid a jail sentence; because he had no money except a $730-a-month disability check, he was thrown in Richmond County lockup.

The cost to taxpayers of Hayes' eight-month jail sentence: $11,500, according to Georgia court documents.