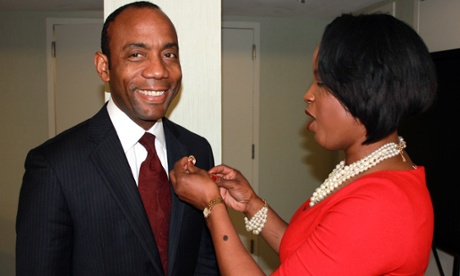 The National Association for the Advancement of Colored People has announced the appointment of a new president, marking Saturday's 60th anniversary of the landmark Brown vs Board of Education supreme court decision.

The announcement came two weeks after the organisation was drawn into the furore over Donald Sterling, the owner of the Los Angeles Clippers NBA franchise.

Cornell William Brooks, a New Jersey lawyer and activist, will become the 18th NAACP national president, replacing Lorraine Miller, who has lead the organisation since Benjamin Jealous stepped down last year.


"As long as America continues to be a great but imperfect nation, there will be a need for the NAACP," Brooks said.

Earlier this month, a national scandal erupted over racist remarks made by Sterling in a recorded conversation. After cancelling a controversial plan to honour Sterling – who has been banned from the NBA for life and is under pressure to sell the Clippers – Leon Jenkins stepped down as leader of the NAACP's Los Angeles chapter.