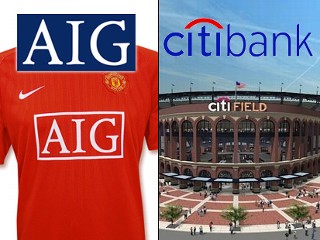 AIG, Citibank and a number of other federally bailed-out financial institutions have no plans to cancel hundreds of millions of dollars in sports team sponsorships, even as they take billions in taxpayer support, ABC News has found.
Struggling Citibank just sealed a multi-billion-dollar emergency "backstop" deal with the U.S. government. The financial behemoth, suffering with billions in bad mortgage-related assets on its books, recently shed 53,000 workers and saw its stock price lose over half its value. Yet it's in a 20-year contract to pay the New York Mets $400 million to name the team's new stadium "Citi Field." 
TVNL Comment: So in essence you, the tax payer, subsidized the milti-million dollar baseball player, who PLAYS GAMES for a living! Not only that...they have made it so expensive to see games that many people can't afford to even go to a game anymore!