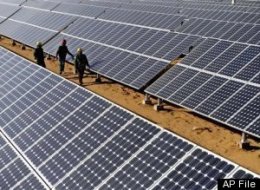 China met a five-year target to improve energy efficiency by cutting power to industry and imposing rolling blackouts, even though a massive economic stimulus increased energy use.

Energy consumption per unit of gross domestic product was reduced by 20 percent from 2005 levels by the end of 2010, said Zhang Ping, chairman of the National Development and Reform Commission. It is China's top economic planning body.
The official Xinhua News Agency quoted Zhang on Thursday as saying detailed data have yet to be released. Top Chinese officials said last year reaching the goal might be difficult because China sought to recover from the global economic crisis with a stimulus that focused on upgrading infrastructure that used steel, cement and other energy-intensive products.

China cut energy intensity by 14.4 percent in 2009, but its economic rebound pushed energy intensity back up by 0.09 percent in the first half of 2010, the first such increase since 2006.

Meeting the energy efficiency target was seen as a key marker of China's commitment toward fighting global warming. It has surpassed the United States as the world's largest producer of greenhouse gases, largely because its economic development over the past three decades has relied on labor- and energy-intensive growth.