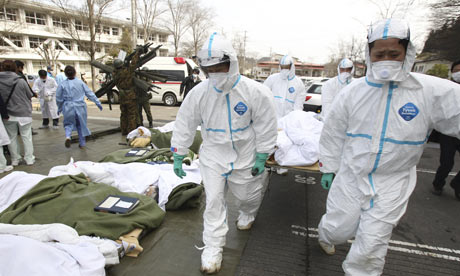 The gung-ho nuclear industry is in deep shock. Just as it and its cheerleader, the International Atomic Energy Agency, were preparing to mark next month's 25th anniversary of the Chernobyl accident with a series of self-congratulatory statements about the dawning of a safe age of clean atomic power, a series of catastrophic but entirely avoidable accidents take place in not one but three reactors in one of the richest countries of the world. Fukushima is not a rotting old power plant in a failed state manned by half-trained kids, but supposedly one of the safest stations in one of the most safety-conscious countries with the best engineers and technologists in the world.
Chernobyl blew up not because the reactor malfunctioned but because an ill-judged experiment to see how long safety equipment would function during shutdown went too far. So, too, in Japan, it was not the nuclear bits of the station that went wrong but the conventional technology. The pumps did not work because the power supply went down and the back-up support was not there because no one had thought what happened was possible.

Even though Japan had been warned many times that possibly the most dangerous place in the world to site a nuclear power station was on its coast, no one had taken into account the double-whammy effect of a tsunami and an earthquake on conventional technology. It's easy to be wise after the event, but the inquest will surely show that the accident was not caused by an unpredictable natural disaster, but by a series of highly predictable bad calls by human regulators.