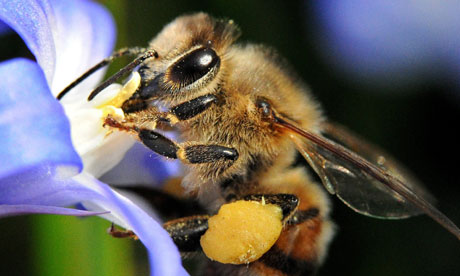 A government report blamed a combination of factors for the disappearance of America's honeybees on Thursday and did not join Europe in singling out pesticides as a prime suspect.

The report, by the Department of Agriculture and the Environmental Protection Agency, blamed a parasitic mite, viruses, bacteria, poor nutritions and genetics as well as pesticides for the rapid decline of honey bees since 2006.
Researchers said it was not clear whether a certain class of pesticides was a major cause of the colony collapse.

Environmental groups described the lapse as a missed opportunity to respond swiftly to a situation that has decimated the country's bee population.

The European Union voted this week for a two-year ban on a class of pesticides, known as neonicotinoids, that has been associated with the bees' collapse.
TVNL Comment:  Not clear?  Then ban the chemical for two years for greater clarity.  Then, see if the bees come back. But no, that would upset the companies who make huge profits from the use of neonoicotinoids.  Geez.