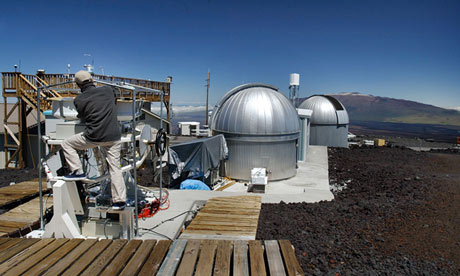 For the first time in human history, the concentration of climate-warming carbon dioxide in the atmosphere has passed the milestone level of 400 parts per million (ppm). The last time so much greenhouse gas was in the air was several million years ago, when the Arctic was ice-free, savannah spread across the Sahara desert and sea level was up to 40 metres higher than today.

These conditions are expected to return in time, with devastating consequences for civilisation, unless emissions of CO2 from the burning of coal, gas and oil are rapidly curtailed. But despite increasingly severe warnings from scientists and a major economic recession, global emissions have continued to soar unchecked.
"It is symbolic, a point to pause and think about where we have been and where we are going," said Professor Ralph Keeling, who oversees the measurements on a Hawaian volcano, which were begun by his father in 1958. "It's like turning 50: it's a wake up to what has been building up in front of us all along."

"The passing of this milestone is a significant reminder of the rapid rate at which – and the extent to which – we have increased the concentration of greenhouse gases in the atmosphere," said Prof Rajendra Pachauri, chair of the Intergovernmental Panel on Climate Change, which serves as science adviser to the world's governments. "At the beginning of industrialisation the concentration of CO2 was just 280ppm. We must hope that the world crossing this milestone will bring about awareness of the scientific reality of climate change and how human society should deal with the challenge."