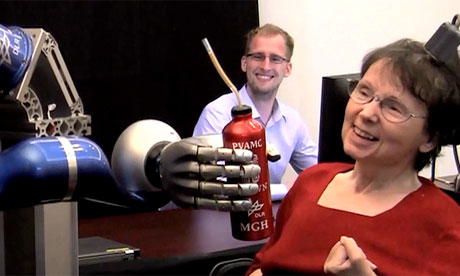 A woman who lost the use of her limbs after a devastating stroke nearly 15 years ago has taken a sip of coffee by guiding a robotic arm with her thoughts.

The 58-year-old used a brain implant to control the robot and bring a flask of the coffee to her lips, the first time she had picked up anything since she was paralysed and left unable to speak by a catastrophic brain stem stroke.
Doctors hailed the feat as the first demonstration of an implant that directly controls a reaching and gripping robotic arm by sensing and decoding the patient's brain signals.

The work is part of a US clinical trial of an experimental implant called BrainGate that doctors see as a first step towards devices that can bypass damage to the nervous system and allow paralysed people to regain control of their limbs or amputees to move prosthetics.

"At the very beginning I had to concentrate and focus on the muscles I would use to perform certain functions," the woman said. "BrainGate felt natural and comfortable, so I quickly got accustomed to the trial."