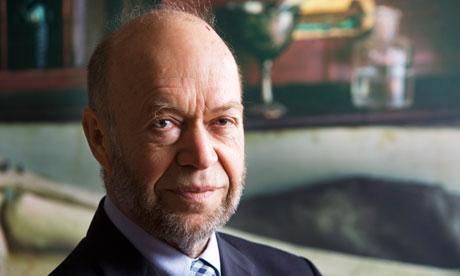 Major international oil companies are buying off governments, according to the world's most prominent climate scientist, Prof James Hansen. During a visit to London, he accused the Canadian government of acting as the industry's tar sands salesman and "holding a club" over the UK and European nations to accept its "dirty" oil.

"Oil from tar sands makes sense only for a small number of people who are making a lot of money from that product," he said in an interview with the Guardian. "It doesn't make sense for the rest of the people on the planet. We are getting close to the dangerous level of carbon in the atmosphere and if we add on to that unconventional fossil fuels, which have a tremendous amount of carbon, then the climate problem becomes unsolvable."
Hansen met ministers in the UK government, which the Guardian previously revealed has secretly supported Canada's position at the highest level.

Canada's natural resources minister, Joe Oliver, has also visited London to campaign against EU proposals to penalise oil from Alberta's tar sands as highly polluting. "Canada can offer energy security and economic stability to the world," he said. Oliver also publicly threatened a trade war via the World Trade Organisation if the EU action went ahead: "Canada will not hesitate to defend its interests."