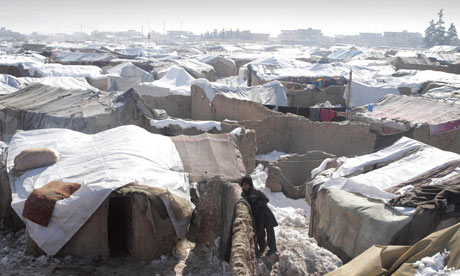 About half a million Afghans have fled their homes because of violence and are living in desperate conditions with little help from a government reluctant to deal with the problems, Amnesty International says in a report.

About 400 people a day are being driven to the cities by security worries, according to the report Fleeing War, Finding Misery, on refugees who stay within Afghanistan's borders but struggle to survive in slum-like camps, with little access to water, food, decent shelter, healthcare or education.
In this year's bitter winter at least 28 children died from cold in camps in Kabul alone; nationwide more than 40 are estimated to have frozen to death, the report says.

Conflict is spreading even to once relatively peaceful parts of Afghanistan and last year more than 3,000 civilians died across the country, according to UN figures.

"We left because of war, and the bombardment from American planes," said Wakhil Khoja Muhammad, who three years ago abandoned his home in southern Sangin, one of the most fought-over districts in the country, for the Chahrai Qambar camp in Kabul.

The settlement houses about a thousand families, who Muhammad said share four hand-pumps for water.