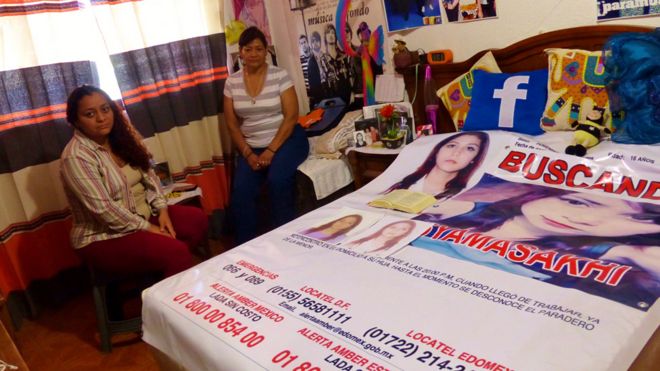 Thousands of women and girls disappear in Mexico every year - many are never seen alive again. When one couple realised their daughter was missing, they knew they didn't have long to find her.

Elizabeth realised something was terribly wrong within 15 minutes of her teenage daughter, Karen, disappearing.

"I just knew it, I had an anguish that I'd never felt before. I searched the streets, called friends and family, but no-one had seen her," she says.
"She'd gone to the public toilets with nothing - no money, no mobile phone, no clothes… We thought she'd been kidnapped."

Karen disappeared in April 2013 when she was 14 - one of thousands of girls to have gone missing in recent years in Mexico state - a sprawling administrative region which wraps around the capital, Mexico City.
A staggering 1,238 women and girls were reported missing in the state in 2011 and 2012 - the most recent figures available. Of these, 53% were girls under the age of 17.

No-one knows how many have been found dead or alive, or are still missing. This is the most dangerous Mexican state to be a woman - at least 2,228 were murdered here in the past decade.