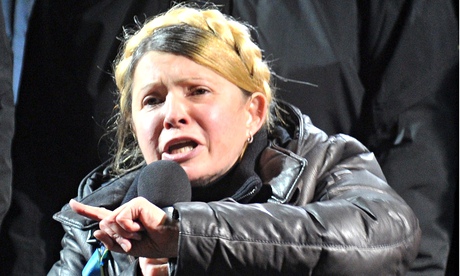 Following a day of extraordinary drama, Ukraine faces a new and uncertain future after the country's parliament voted to impeach the president, and Yulia Tymoshenko, the former prime minister, was released from prison. She has pledged to stand in elections in May.

As the president, Viktor Yanukovych, fled the capital, and parliament voted to strip him of his powers, he likened the actions of his opponents to those of the Nazis and said he would battle to stay in power. However, those willing to stand by Yanukovych diminished by the hour as his aides fled Ukraine and the president himself was accused by border officials of a failed attempt to fly out of the country.
The army said it would not get involved, and police in key eastern areas said they were "with the people".

In eastern Ukraine and Crimea there was fury at events in Kiev, and all eyes will now be on Russia, where the foreign minister, Sergei Lavrov, labelled the opposition "rampaging hooligans" and called on Europe to rein them in.