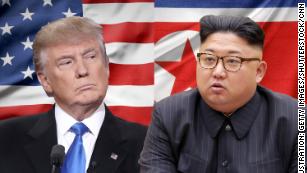 Welcome, President Trump, to the infuriating, indecipherable game of North Korean nuclear diplomacy.
An unexpected series of threats from the enclosed Stalinist state threatened to nix next month's planned summit in Singapore between Trump and North Korea's leader Kim Jong Un and sink White House hopes of a spectacular foreign policy success.
The warning delivered a jolt of reality, underscoring that despite weeks of positive steps by North Korea and Trump's gusher of praise for Kim, the process of negotiating with the inscrutable state remains as treacherous as ever.
First, North Korea shocked Washington by lashing out at US-South Korea military drills, saying they could lead to the summit being scrapped. Then in a more ominous development, it warned that if the White House required the dismantling of its nuclear arsenal up front, there was little point in talking.