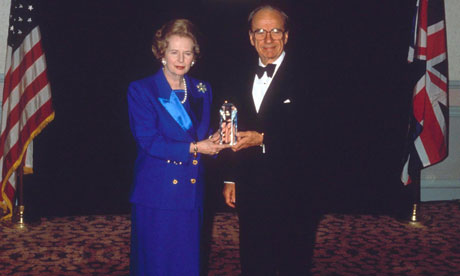 A secret meeting between Rupert Murdoch and Margaret Thatcher cleared the way for News International to buy the Times and Sunday Times in 1981, Thatcher's private files reveal.
Thatcher gave the meeting no publicity and instructed that the note should not leave No 10 Downing Street; the media tycoon later gave the impression in the newspaper's own history that he had no contact with the prime minister ahead of Conservative approval of the purchase.
The Ingham note makes clear that Murdoch first tried to establish some political empathy with Thatcher by praising Ronald Reagan's new administration before explicitly briefing her on his bid and future plans for Times Newspapers, including taking on the unions, introducing new technology and reducing the workforce by 25%.
This direct personal lobbying was critical, as the government had the power to block his acquisition by referring the bid to the Monopolies and Mergers Commission because Murdoch already owned the Sun and the News of the World. The government's subsequent refusal to do so paved the way for the creation of what is easily the largest newspaper group in Britain. Its market share was about 28% at the time, but its financial strength has helped it grow to the point where it accounts for about 37% of all newspaper copies sold.