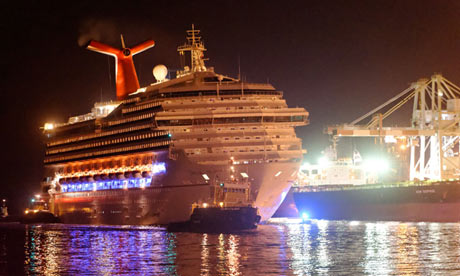 CNN's new chief Jeff Zucker turned the Carnival Triumph story into a reality TV show. It's a risky strategy for the network.
One crippled cruise ship, 3,000 American passengers, a golden opportunity for a troubled network. Jeff Zucker moved swiftly and decisively to put his distinctive editorial mark on CNN last week, giving the most telling insight yet into the way he sees the channel regaining its relevance.
He has been telling insiders that the future of the network is compelling story telling. During his tenure at NBC's Today show, the program was always the first stop for those with a story to tell – from disgraced politicians to celebrities with secrets to ordinary people in extraordinary circumstances.

Trouble on the Carnival Triumph was tailor-made for Zucker, two months into his reign as CNN supremo, to demonstrate what he wants. With an engine fire leaving the powerless ship to be towed by tugs back to the US from the Gulf of Mexico, it was a chance to show what might work.

Toilets failed to flush and overflowed, food was only served to people prepared to stand in queues for hours and Carnival Cruise Line 'guests' were left to find places to sleep on deck in fresh air.
TVNL Comment:  What to do when there's no US war to promote?  Go tabloid, of course.  CNN, for years, has had call letters that stand for Contains No News.  Here's the evidence, from analysis we did years ago.