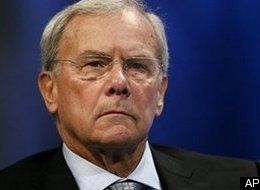 The Times reveals that Brokaw has "played a pivotal role out of public view, both within NBC and in its dealings with the campaign of John McCain in particular."

    Mr. Brokaw said that over the summer he had "advocated" within the executive suite of NBC News to modify the anchor duties of the MSNBC hosts Keith Olbermann and Chris Matthews on election night and on nights when there were presidential debates. Their expressions of strong political opinions from the MSNBC anchor desk has run counter to the more traditional role Mr. Brokaw played on "NBC Nightly News" for more than two decades. NBC said earlier this month that the two hosts would mostly relinquish their anchor duties to Mr. Gregory, while being present as analysts.
Brokaw said he has also conducted some "shuttle diplomacy in recent weeks" between NBC and the McCain campaign.