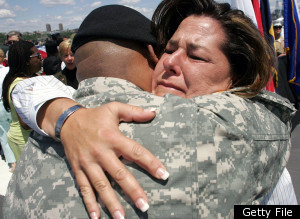 Reversing a longstanding policy, the White House has decided to send condolence letters from President Barack Obama to the families of service members who commit suicide while deployed to Iraq, Afghanistan and other combat zones.

The president had been weighing a change in the policy since December 2009, and it took effect this week. "The president feels strongly that we need to destigmatize the mental health costs of war to prevent these tragic deaths, and changing this policy is part of that process," a senior White House official said in a statement to POLITICO.
The review "was exhaustive and difficult, as this is an emotional, painful and complicated issue," the official said.

And, "As a result of this review, the President has decided to change the administration's policy and will now send condolence letters to families of service members that commit suicide while deployed to Operation New Dawn (OND), Operation Enduring Freedom (OEF) and other combat operations," the White House added.

In fiscal 2009, 160 members of the Army committed suicide, and 1,713 suicide attempts were reported. Between 2005 and 2009, 22.8 percent of Army suicides took place in combat zones. Overall, across all the armed forces, more than 1,100 service members committed suicide in that same five-year period.