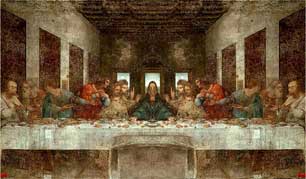 First, I'm an artist who used mirroring to create surreal imagery. One day I was looking at Da Vinci's paintings online when I somehow copied one to my clip board.

A few hours later I began working on some of my artwork when a layer of the last supper was mirrored in the center of my piece of artwork. I then realized there was hidden imagery in the painting.

So I started working with all kinds of masonic art and sure enough the more I researched the more hidden imagery I found.

The Set, OTO, SS and the One One are everywhere. I realized that the House of Congress has the symbols of the One One and the SS...

It only gets more strange once I show you one of the Mona Lisa, The Last Supper and many of the Da Vinci images. People say he wasn't a Freemason, but who can tell us what the truth is, if all we get are lies?

Hidden symbols within US currency

Mirrors have been a way to hide secrets within paintings and artwork for centuries. While working with these images I developed a process called ORP.

Optical Realignment Process. When you use this technique it unlocks many secret messages and symbols contained within these masonic artworks.

You may not like what you see, so stop reading if you don't want to see what you've been missing.

Before we look at the images, we must review some of the common themes and their definitions.