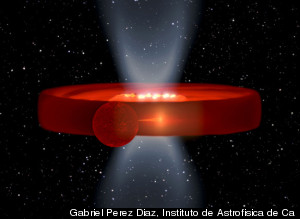 Astronomers studying an unusual black hole system have spotted a never-before-seen structure in the disk of matter encircling the system.

Swift J1357.2, an X-ray binary system that regularly emits outbursts of high energy, consists of a black hole slowly consuming its companion star. Matter from the doomed star falls into the accretion disk, which surrounds the black hole, feeding it dust and gas. While observing the system, a team of scientists noticed an unusual vertical feature traveling through the material.
"It's the first time we can resolve such [a] structure in an accretion disk, and it might be ubiquitous in X-ray binaries during the outburst state," Jesus Corral-Santana, of the Astrophysical Institute of the Canary Islands in Spain, told SPACE.com by email. [The Strangest Black Holes in the Universe].

The black hole contained in Swift J1357.2 is one of the millions of stellar black holes that dot the Milky Way galaxy.