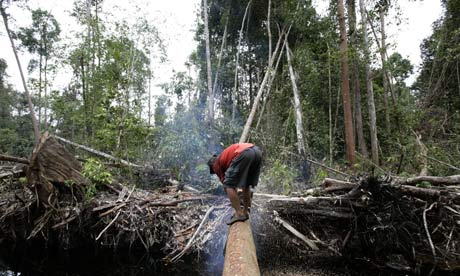 Environmentalists campaigning to prevent the wholesale destruction of the Indonesian rainforest scored a major victory on Wednesday after coaxing the Walt Disney company, one of the world's largest publishers of children's books, to revamp its paper purchasing policies and sever ties with two of Asia's most controversial pulp and paper manufacturers.

After two years of occasionally testy exchanges and intense negotiation with the Rainforest Action Network (Ran), a San Francisco-based advocacy group, Disney agreed in a new written policy to do everything it could to safeguard endangered forests and their ecosystems, which support the sorts of animals celebrated in Disney feature films and their multimedia spinoffs.
"Disney is adding its voice to the growing chorus of companies demonstrating that there's no need to sacrifice endangered forests in Indonesia or elsewhere for the paper we use every day," Ran's executive director Rebecca Tarbotton said in a statement.

Or, as another activist for the organization put it: "The Jungle Book will no longer be destroying the jungle."

Disney will now avoid the mixed tropical hardwoods typically harvested in the Indonesian rainforest and will seek alternative sources such as recycled paper and wood harvested according to the recommendations of the internationally recognized Forest Stewardship Council.