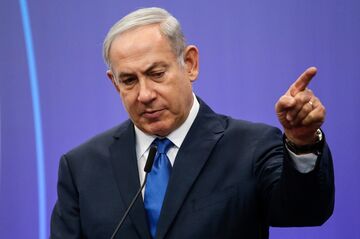 Benjamin Netanyahu's legal woes deepened after one of his closest confidants agreed to testify against him in a growing corruption scandal, complicating the Israeli leader's efforts to hold on to his job.
Shlomo Filber, the suspended Communications Ministry director and onetime chief of Netanyahu's bureau, signed an agreement to become state witness. He turned on his former boss less than a week after police recommended pressing charges against Netanyahu in two other influence-peddling cases -- and a day after news broke that police were investigating whether another longtime Netanyahu associate sought to bribe a judge.
Filber's state-witness agreement could represent a major break in the investigation. Former Prime Minister Ehud Olmert went to jail for bribery in 2016 after his longtime secretary turned against him.
"Filber is a close confidant of the prime minister who can fully connect all the dots of all the people," said Keevoon Global Research head Mitchell Barak, who served as an aide to Netanyahu more than 20 years ago.