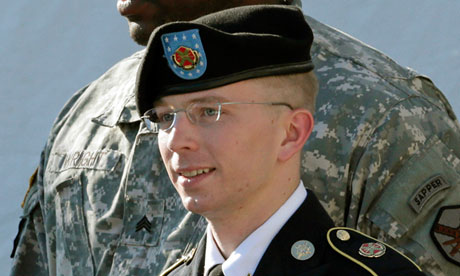 Supporters of Bradley Manning, the US soldier who is accused of being behind the largest leak of state secrets in America's history, held a series of rallies across the US and the world on Saturday.

The demonstrations in more than 70 locations were aimed at marking Manning's 1,000th day in jail and came as the young soldier prepares to appear again before a military court next week. Manning is being prosecuted by the US government for allegedly transmitting confidential material to the anti-secrecy campaigner Julian Assange's web organisation WikiLeaks.
The US government considers such actions a threat to its national security. If convicted the 25-year-old could be confined to military custody for the rest of his life. But Manning's plight has become a cause célèbre among Wikileaks supporters, as an example of a brave whistleblower exposing injustice.

"A heroic young man faces life in prison for exposing the truth," said Jeff Paterson, a spokesman for the Bradley Manning Support Network.