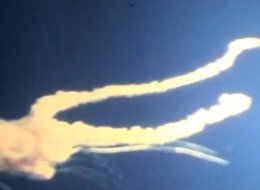 Rare film of the 1986 Challenger explosion, taken by Jeffrey Ault of Orange City, Fla., has emerged. It is perhaps the only amateur recording of the event on film, and online it has been made available exclusively to The Huffington Post.
While two home videos (one Betamax and one VHS) of the Challenger tragedy have surfaced, Ault's film, shot from the Kennedy Space Center viewing site fewer than ten miles from the launch, offers a never before seen -- and significantly closer -- perspective.
The video begins with the countdown to launch, and as the Challenger lifts off, cheers and applause can be heard in the background. The camera follows the shuttle as it climbs, reaching a height of more than nine nautical miles. At 73 seconds, a fireball appears and a woman screams. It's not until 39 seconds later that Steve Nesbitt's chilling words can be heard from the Mission Control Center: "Flight control is here looking very carefully at the situation. Obviously a major malfunction."

The film ends moments after Nesbitt announces that the vehicle has exploded.