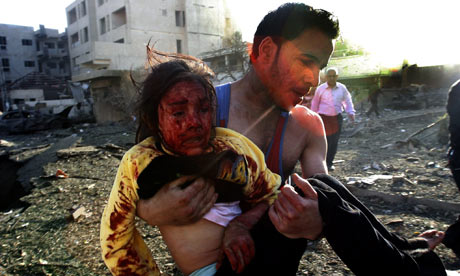 In Iraq generally, estimates vary, but a very conservative count puts violent civilian deaths (excluding police) from the eve of the invasion of 2003 to the end of 2010 at between 65,000 and 125,000. They included more than 400 assassinated Iraqi academics and almost 150 journalists killed on assignment.
The true number may be many, many times greater. In Afghanistan, from 7 October 2001, the day the bombing started, to mid-October 2003, between 3,000 and 3,600 civilians were killed just by coalition air strikes. Many more have died in other "collateral damage" incidents or through the actions of insurgents.
The toll has steadily risen. There were probably around 450 civilian casualties in 2005. From 2006 to 2010 between 7,000 and 9,000 civilian deaths were documented, depending on the source. In 2010 alone, more than 2,000 died. In all, between 11,000 and 14,000 civilians have been killed in Afghanistan, and at least three or four times that number wounded or permanently disabled.
In Pakistan, which saw the first deaths outside America of these multiple conflicts when police shot into demonstrations in September 2001, the number of casualties is estimated at around 9,000 dead and between 10,000 and 15,000 injured.

Add these admittedly rough figures together and you reach a total of well over 150,000 civilians killed. The approximate overall figure for civilian and military dead is probably near 250,000. If the injured are included – even at a conservative ratio of one to three – the total number of casualties reaches 750,000.