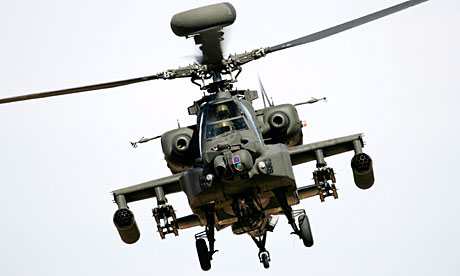 Five Afghan children have been injured, some seriously, by cannon fire from a British Apache helicopter, according to UK defence officials.
It is believed they were hit by stray bullets during an intended attack on an insurgent as they worked in a field in the Nahr-e-Saraj district of Helmand province, on Saturday.  The children were taken to Camp Bastion, the main British base in Helmand, for treatment, the Ministry of Defence said.
Officials are investigating the incident which is likely to focus on the accuracy of the Apache's cannon and the speed with which they fire.
The MoD is expected to offer compensation in the form of ex gratia payments to the families of the children.
An MoD spokeswoman said: "On 23 July, UK forces used an Apache attack helicopter to conduct a strike operation against positively identified insurgents who were seen operating in Nahr-e Saraj (south). Regrettably, five local children working in a neighbouring field were injured during the strike. The five children were taken to Isaf medical facilities before being taken on to Camp Bastion where they received medical care."
She added: "Any incident involving civilian casualties is a matter of deep regret and we take every possible measure to avoid such incidents. A shooting incident review is now under way and UK officials in Afghanistan are keeping the provincial governor abreast of the results of the investigation."