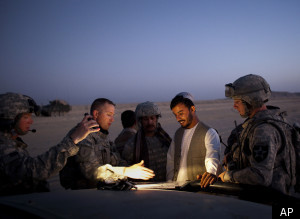 Raziq has long been publicly suspected of drug trafficking and corruption; allegations that he and his men have been involved in extrajudicial killings, torture, and illegal imprisonment have been trickling out for years. Raziq categorically denies all such charges, telling The Atlantic, "When someone works well, then he finds a lot of enemies who try to ruin his name."

Last fall, Raziq and his militia were given a starring role in the U.S.-led military offensive into Taliban-controlled areas west of Kandahar City, a campaign that boosted his prestige immensely. Mentored by an American Special Forces team, Raziq's fighters won public praise from U.S. officers for their combat prowess.
After the offensive, Raziq was promoted to brigadier general—a rank requiring a direct order from President Karzai—in a January ceremony at the governor's mansion. As Ben Moeling, who was until July the State Department's senior official in Kandahar province, explained to me at the time, the promotion was "an explicit recognition of his importance."

Nor was that promotion the only evidence of Raziq's continuing ascent. In May, when Karzai appointed him chief of police for Kandahar province, Raziq accepted only on the condition that he also remain in charge of Spin Boldak, the seat of his economic and tribal power. So, in a move that enabled him to retain both jobs, Raziq was appointed "acting" police chief in Kandahar.