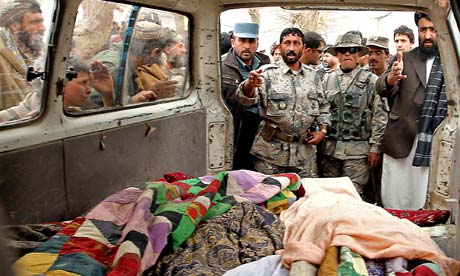 Civilian casualties in Afghanistan are the highest they've been since the invasion, according to the latest statistics from the United Nations creating the highest total since 2006 for civilian deaths - the continued annual rises has seen over 12,793 killed in the past six years.

In the light of the horrific attacks on a village by an American soldier over the weekend, the data brings fresh focus on the Nato operation there.
The Taliban and other anti-government elements have been blamed for 2,332 of the 3,021 civilians who were killed in Afghanistan last year - a rise of 8% on 2010. In 2011, UNAMA documented 2,332 civilian deaths and 3,649 injuries by the Taliban for a total 5,981 civilian casualties, an increase of 10% in deaths and injuries attributed to anti-government forces compared to 2010.
This accounted for 77% of all deaths whereas Nato and government forces totalled 410 civilian killings and 335 injuries.
Suicide bombings and improvised explosive devices (IEDs) killed the most Afghan civilians according to the UN, with just under half of deaths. Between 1 January and 31 December 2011, UNAMA recorded 967 civilian deaths and 1,586 injuries from IEDS. United Nations Assistance Mission in Afghanistan says: