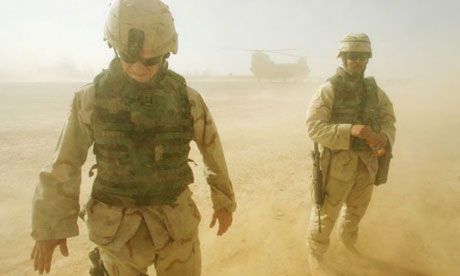 A jury has ordered an $85m (£53m) compensation payout by the American military contractor Kellogg Brown and Root – which helped build Guantánamo Bay and has tendered to run key police services in Britain – after finding it guilty of negligence for illnesses suffered by a dozen soldiers who guarded an oilfield water plant during the Iraq war.

After a three-week trial the jury deliberated for two days before reaching a decision against KBR, which used to be part of Halliburton corporation. KBR was ordered to pay $6.2m to each of the soldiers in punitive damages and $850,000 in non-economic damages.
During the Iraq war KBR was the engineering and construction arm of Halliburton, the biggest US contractor during the conflict. KBR split from Halliburton in April 2007 and has since tendered in Britain to run key police services in Surrey and the West Midlands.

The US lawsuit was the first concerning American soldiers' exposure to a toxin at a water plant in southern Iraq. The soldiers have said they suffer from respiratory ailments after their exposure to sodium dichromate and fear that a carcinogen it contains – hexavalent chromium – could cause cancer later in life.
TVNL Comment:  Thank you, Dick Cheney, for more murders for profit.