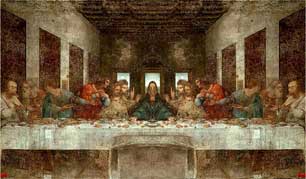 First, I'm an artist who used mirroring to create surreal imagery. One day I was looking at Da Vinci's paintings online when I somehow copied one to my clip board.

A few hours later I began working on some of my artwork when a layer of the last supper was mirrored in the center of my piece of artwork. I then realized there was hidden imagery in the painting.

So I started working with all kinds of masonic art and sure enough the more I researched the more hidden imagery I found.