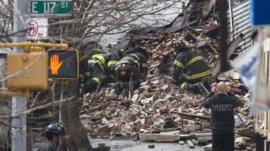 A thunderous explosion in East Harlem sent "people flying out the windows," killing two women, injuring 22 and leveling two buildings Wednesday morning, the Fire Department and witnesses said.

Mayor de Blasio said the search continued for people still unaccounted for three hours after the blast at 9:31 a.m.
An NYPD source said nine to 12 people were missing.
Two people suffered life-threatening injuries, five had serious injuries that did not appear life-threatening, a Fire Department spokesman said. "It's a tragedy of the worst kind because there was no indication in time to save people," said de Blasio at the scene, adding there was no indication of foul play. "We know we've lost two people already."