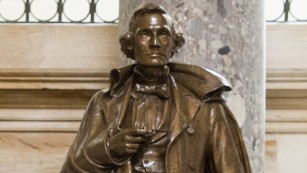 Though there is a monument to African-Americans as a group, no individual of color is honored on the Capitol grounds -- except for a mention on Thurmond's monument of his biracial daughter Essie Mae Washington-Williams, whose identity was kept secret until six months after he died.

Wednesday, one week after a 21-year-old white South Carolinian murdered nine black worshipers -- including a state senator -- in a Charleston church, lawmakers in Columbia are debating whether it is time to take down the flag down.

Still, regardless of the outcome of that debate, the flag is only one item in one place in one state.