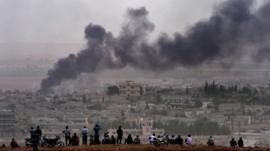 At least 553 people are said to have died in a month of fighting for Kobane, the Kurdish town just inside Syria under Islamic State (IS) attack.

The Syrian Observatory for Human Rights, a UK-based Syrian opposition body which monitors the conflict, counted 298 IS fighters among the dead.

US aircraft have bombed IS positions as Kurdish fighters cling on to the town's vital border crossing with Turkey.